Before applying read this page carefully!
The Conservatory Internship is again being offered as of Fall 2017 during Fall and Spring Quarters as a two quarter internships. Please submit your schedule for Fall Quarter ASAP and for Spring 2018 after Pass 2 registration.
Note to Applicants: A resume is not usually required, most importantly your interest, willingness to work as part of the internship, and a schedule that matches other applicants are required. Read below for submitting your schedule for the the following quarter. Space is limited to 12 interns/quarter and is usually full before the beginning of the next quarter so please submit your schedule as soon as possible after your second pass of registration for the quarter you'd like to intern.
qualifications?
Although no experience is required, a willingness to handle plants and work around, potting media, soil and "dirt" is necessary as is a willingness to work in return for the practical experience you'll get here. Think mutualistic symbiosis and physical activity coupled with hands-on learning. Your interest in plants must be coupled with the guarantee that you will be a working/contributing member of the conservatory team and that you can continue into the second quarter as an experienced intern/volunteer.
The Conservatory internship is designed to help students gain hands-on experience in learning how to grow, propagate and understand plants of all types by learning to understand the internal controls and external factors that influence their growth and growth rates.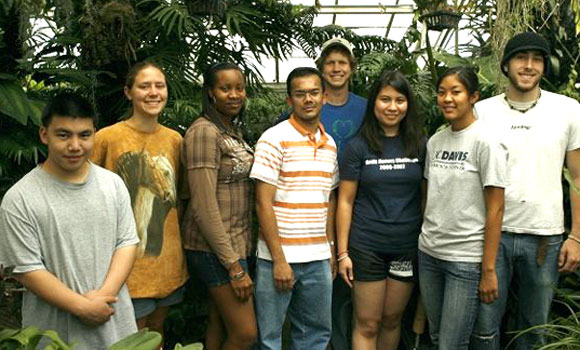 Conservatory interns, spring 2008
What interns learn at the Conservatory
How hormones control plant growth and how pruning and transplanting, as well as external applications of hormones can be used to manage/direct growth
How to properly prune plants and use several types of pruning tools
Methods and techniques for various forms of sexual and asexual propagation and how to use hormones to encourage this.
How greenhouses, as well as other large or small people-made environments, and natural ones affect plant growth
How to transplant various types of plants and minimize "shock"
How plants grow in containers and in the ground and how they compare
How greenhouse media and field soils affect plant growth and can be modified
How to recognize several of the common plant insect pests common to Northern California as well as the biology of pest insects and beneficials
The adaptations of and how to cultivate specialized plant groups, such as insectivores, succulents, and orchids
How plants are adapted for their natural environments
How to use plant identification tools if possible.
How to apply for an internship
Before contacting/meeting with Conservatory staff, please review this whole page, download and print the schedule form, and transfer your schedule of classes and other activities to the form electronically or in pencil. Internship times, especially the weekly 2-3-hour teaching session, are chosen based on the multiple schedules submitted by the end of the current quarter and are usually sheduled for some time on Friday, especially in the afternoon. You will be notified prior to the start of each quarter whether or not your schedule fits with the internship teaching times. Please submit your completed schedule form to Ernesto Sandoval jesandoval@ucdavis.edu or deliver it to the Botanical Conservatory office.
Time required
The internship generally involves two three-hour sessions per week (one unit) and an optional independent plant-related literature research or plant growth project for those wanting 2 or more units that will continue into the second quarter. A progress report on the project or research is due finals week (2 page minimum for project report, 8 page minimum for library research paper). The report should be in scientific format. In order to prepare for an independent project, please discuss, with Conservatory staff, plant related topics that you are interested in or would like to investigate in the form of experimental or library/literature research to come up with a project. Planning for experimental projects needs to happen ASAP during the first quarter in order to be able to harvest initial data and provide a progress repor tbefore the first quarter of the internship and a final report/paper at the end of the second quarter.
A few more details
-Teaching session 2-3 hrs TBA
-Greenhouse work experience 3-4 hours TBA
-PLB 92 (you have 79 or less units) or PLB 192 (80 or more units)
-1 unit (2 unit Option requires an independent project, see above)
-Instructors: Ernesto Sandoval, Marlene Simon, and guest lectureres
-Contact: Ernesto Sandoval, jesandoval@ucdavis.edu.
-Location: Botanical Conservatory (middle greenhouse north of Storer Hall see Maps page link)